In this episode of STEMiverse Podcast, Peter talks with Meridith Ebbs.
Unfortunately Marcus was unable to join us as he was stranded at an airport during this interview.
Meridith is a teacher with 23 years of experience in K-10 and adult education. She is interested in integrating STEM into classrooms and she is now also working as the NSW Project Officer for the CSER program with the University of Adelaide. She speaks regularly at conferences on Digital Technologies and evolving pedagogies so teachers can future proof the skills of students.
This is STEMiverse episode 13.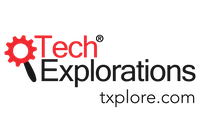 This podcast is brought to you by Tech Explorations, a leading provider of educational resources for Makers, STEM students, and teachers. Go to txplore.com to see a complete list of our books and courses covering the Arduino, Raspberry Pi and electronics.
Show notes
[00:00] Introduction - Introducing Meredith Ebbs
[01:39] Meredith talks about her background in Physical Geography, Geomorphology, Biology and Genetics, her Diploma of Education in Primary School Teaching, her work as a Computer Trainer and more
[05:30] A comparison of teaching styles between University and Microsoft courses
[06:50] When Meredith decided to become a teacher
[07:44] Meredith's experience in teaching during the early years
[09:41] Integrated teaching
[14:03] Thematic teaching during the 90s
[15:21] Capturing the students' attention
[15:52] Using thematic teaching with older students: Project-based learning
[18:10] Universities need to reevaluate how they assess students
[20:36] What are we preparing students for?
[22:31] Portfolio-based entry at the University of Newcastle
[24:01] Example of a special education support student who created a remote control for a lawn mower
[25:24] Careers in terms of job clusters and transferable skills
[26:11] Flexibility in the educational system
[26:41] Meredith's current work at the University of Adelaide
[29:33] Teaching Teachers about Computational Thinking MOOC
[31:35] What makes computational thinking so important
[33:09] The new literacy standard
[34:22] Is Australia heading the right way and if so is it fast enough?
[36:04] The implications of technology and the social issues that need to be discussed
[36:36] Are new-coming teachers ready for the job required of them?
[37:15] Advice for a new teacher on how to upskill: MOOCs, mentors, the internet and social media
[40:04] The ways Meredith uses Twitter in the context of her work in education
[41:52] Using Twitter as a notebook and storifying twitter chats
[43:07] Using Pinterest
[44:03] Rapid Fire Questions
[44:21] Who has been the most influential in shaping the way you teach: Ada Lovelace
[45:10] Ada Lovelace (the first computer programmer) & Grace Hopper (inventor of COBOL)
[47:36] Apps you cannot leave without: Social Media
[49:35] Professional Development Conferences and Workshops: TeachMeet Sydney & Meetups
[51:59] Favorite Books: 'Hello Ruby' and Andrea Beaty's Books
[51:59] Meredith's Contact Information: CSER Digital Technologies Education